Your partner for distribution
From our bonded warehouse to your customers in Sub-Saharan Africa
As our headquarters is located in Belgium, we have our bonded warehouse and logistics platform near the port of Antwerp, so it is not only close to us, but also close to our partners in Belgium, France and Portugal.
Our distribution partners have over 100 years of market presence, comply with GDP requirements. Through our partnership model, we can count on flexible and well-organized partners, and are responsive to market changes. We can count on geographically strategic distributors, and because we do not focus on one distributor, we can combine the strengths of multiple partners, which afford us access to niche market segments. As a result of their strong market presence through a branch network in strategic towns we obtain 100% geographical coverage.
Transport by road, by air or by sea
From our warehouse in Belgium, we transport to EU distributors in France, Poland and the Netherlands by road. European not-for-profit distribution is also performed by road.
To African wholesalers, we transport either by air, or by sea, depending on their location.
To enable efficient distribution into East Africa, we have a Nairobi based logistical platform for further distribution. Our Nairobi warehouse is within 15km radius to the farthest partner. In this way, we can act quickly in case of demand change. From our warehouse in Kenya, we also ship to wholesalers in Uganda and Tanzania, by road.
Our warehouse in Belgium:
The strengths of our warehouse in Belgium:
Discover how we can support your distribution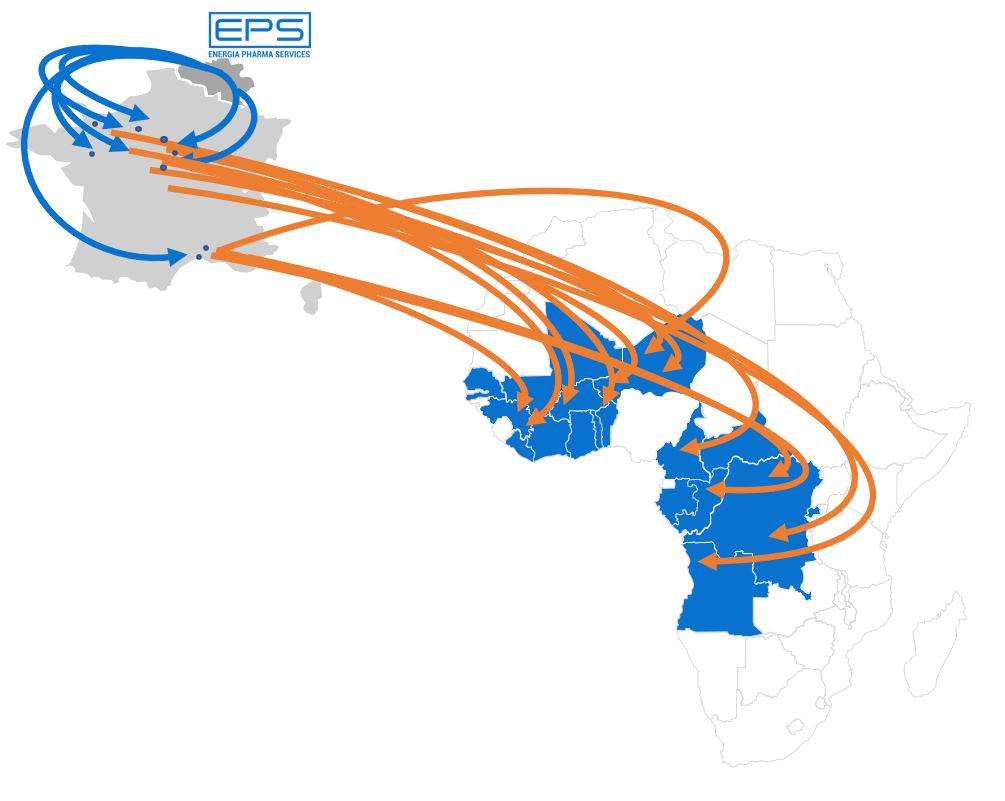 Buffer stock close to partners
Max delay deliveries to France: 10 days
Distribution on country level by our partners and local wholesalers to hospitals,  pharmacists, …
Multiple partners per country to cover the entire market
Cost efficient transport
Nairobi buffer stock for customers in Kenya, Tanzania, Uganda, Rwanda

Distribution on country level by our

partners and local wholesalers to hospitals, pharmacists, …

Multiple partners per country to cover entire market

Cost efficient transport